Stainless Steel T Bolt T-Bolt Clamp with Brass Screw Choice of sizes available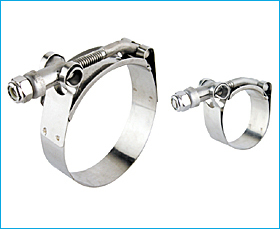 ---
High Quality Stainless Steel T-bolt clamp 
For use in Car engine bays to clamp Silicone hoses for intercooler instalment etc
And various diameters available.
Available to clamp hoses of 1"  25mm  diameter to 4"  / 102mm diameter
Band width of each clamp is 20mm
We offer a 12 month warranty on these items.
For other types and style of hoses or intercooler fittings, please ask if you can't find them and we will be happy to help.
All items purchased prior to 12 noon on any working day will be posted on the same day, and any questions or problems, we will contact you within 24 hours - questions from Friday afternoon until Monday will be answered on Monday.Please don't hesitate to contact us at:info@nicenewcar.co.ukThanks for lookingx