NMEA 2000 Starter kit Simrad Lowrance B&G Garmin Connector Backbone "M" versio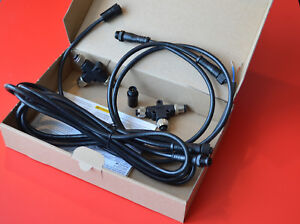 ---
Das ist die Kit Variante "M". Es sind noch "S", "XL", "XXL", "Triple" und "MEGA" Varianten möglich. Schauen Sie sich einfach unsere andere Angebote an.
Das NMEA2000_Starterkit "M" besteht aus: 
1x Abschlusswiderstand, 2x T-Stück, 1x 3m Datenkabel, 1x 1m Abzweigdatenkabel und 1x Stromversorgungskabel mit integrierten Abschlüsswiderstand für NMEA2000 Netzwerk.
Hochwertige spezielle Niedervolt Kabel mit einem stärkerem Querschnitt sorgen für höchste Zuverlässigkeit in Ihrem NMEA2000-Netzwerk. Alle Kabel sind zweifach geschirmt. M12, 5Pin, Micro-C wasserdichte Schraubanschlüss, IP68.
Neuheit!!!  Der zweite Abschlusswiderstand ist bereits in PowerKabel integriert. Somit gewinnt die Installation einen zusätzlichen Geräteanschluss.
Detalierte Installationsanweisung können Sie von der Technospark Systems herunterladen.
------------------------------------------------------------------------------------------------------------------
That is the kit in version "M", also available in "S", "XL", "XXL", "Triple" and "MEGA":
Please have a look at our current product and specials.
The NMEA 2000_Starter kit "M" included:
1x terminating resistor, 2x T-connector, 1x 3m data cable, 1x 1m feeder data cable and 1x power supply cable(terminator already integrated) for NMEA 2000 network.
New! The second terminating resistor is already integrated in the power cable. This gives you an additional device connection port.
High-quality special low-voltage cables with a larger cross-section ensure maximum reliability in your NMEA 2000 network. All cables double shielded. M12, 5Pin, Micro-C waterproof screw terminals, IP68.
Detailed installation instructions can be downloaded from the Technospark Systems website.