ELECTRIC WARRIORS #1A (WK46)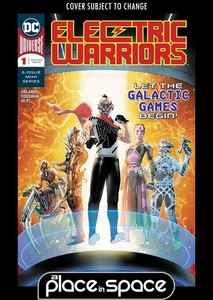 ---
A new tale of the future DC Universe, set in a previously unexplored timeline-the Cosmic Dark Age! Years after the Great Disaster, the Earth has started to rebuild and rejoin the universal coalition. In order to prevent a galactic war, different worlds throughout the known cosmos have created a new system of competitive combat to give each participating planet their own voice in the intergalactic struggle. Each world has one diplomatic gladiator, chosen to possess the Electric Seed and fight for their homeland as the Electric Warrior! Each fighter forsakes their personal life in the name of peace. So what happens when Earth can't choose a single combatant and sends two instead? The bruiser War Cry represents the humans of Earth, while Deep Dweller, a shape-shifter from the Octopus Tribe, represents the animal kingdom. Can they maintain one common goal, or will they tear Earth's tenuous coexistence to shreds and destroy the rest of the universe with it? Oh, and War Cry also has a powerful relic from Earth's past: Superman's cape! Terms and Conditions:Please read before purchasing. 
Please ensure you use the shopping basket facility within , when placing your order, as we are unable to refund postage on multiple orders, if paid individually.  
If you are outside of the UK, please use the shopping basket facility on .co.uk for automatically combined postage when you pay.  
Comics are strictly limited to 1 copy per customer.  
All of our comics are 1st prints, unless we state otherwise. 
All comics come bagged and boarded (excludes magazine and graphic novels).  
Payment via Paypal only.
 
All our comics are brand new/unread, unless stated otherwise on the listing (i.e. some Auction items).Please be aware before buying, that it is impossible for us to check every single item to try and identify every minor imperfection and therefore some items will not be in Mint condition. Unfortunately, many comics now have printing faults sustained during the printing process and additionally, with the amount of handling during the printing, packaging, shipping and distribution process, it is an unrealistic expectation for comics and magazines to be without any imperfections or fault. Brand new comics are subject to many industry accepted flaws (i.e. spine creases, corner wear, print faults, ink marks, smudges, ink disturbance/bleeding, small tears at the spine corners) and we do not accept requests for cancellation or return of affected issues.
 
Many buyers have very exacting standards and expect new comics to be perfect and/or without fault,unfortunately we cannot guarantee this level of quality because of the reasons above. We do not state that our comics will achieve a certain grade at CGC and you should not expect that our books will be 9.6 or 9.8 etc. Many will be, however it should not be expected. We will not accept returns if a customer believes that a comic won't achieve an anticipated grade.We would recommend that if you you require near perfect copies, that you visit your nearest comic store and personally hand pick the best copy. 
DAMAGES:• Those who buy from us on a regular basis know the quality of our comics, we send the very best we have available. On occasion, new comics can be subject to many flaws, i.e. spine creases, minor print faults, ink marks, smudges and other minor imperfections. White Covers and Blank covers are particularly susceptible to printing marks and on occassion there are no better copies available from us or our suppliers. These are industry accepted printing flaws and therefore we are unable to accept returns or offer discount for these imperfections.• If your item sustains postal damage, please contact us immediately.• We will require images of the outer packaging and item clearly showing the damage being reported. This is required for our Supplier / Postal Services claim process.  Options of a refund, replacement or alternative will be offered to the Buyer. Replacements are dependent upon availability.PLEASE NOTE THAT THE IMAGES USED ARE PROVIDED BY THE PUBLISHERS AND MAY DIFFER TO FINAL PUBLICATION COVERS. PLEASE ORDER BY THE ISSUE NUMBER RATHER THAN THE IMAGE.IF A PREORDER COMIC IS DELAYED FOR ONE OR TWO WEEKS, YOUR ORDER WILL WAIT UNTIL THAT COMIC HAS BEEN RELEASED BEFORE BEING SENT. IF A PREORDER COMIC HAS BEEN DELAYED FOR MORE THAN TWO WEEKS, THAT COMIC WILL BE CANCELLED AND REFUNDED AND THE REST OF YOUR ORDER SENT.YOU SHOULD ALSO BE AWARE THAT ITEMS BOUGHT ON THE SAME DAY AS PRE ORDERS WILL BE COMBINED AND SENT WHEN THE FINAL PRE ORDER IS RELEASED.IF YOU ARE BUYING A MIXTURE OF PRE ORDER AND IN-STOCK ITEMS, YOUR ORDER WILL SHIP WHEN THE FINAL COMIC IS RELEASED.ORDERS OF 5 OR MORE ITEMS WILL QUALIFY FOR A 20% DISCOUNT WHEN USING THE SHOPPING BASKET ON .CO.UKPOSTAGE:We despatch orders usually within 24/48 hours from receipt of payment. The estimated delivery date given on the listing is provided directly by , not us, and this is an estimate only, not a guarantee and buyers should be aware that successful delivery is reliant upon Postal Services delivering in a timely and secure manner. In many cases, where a buyer is reporting delays, we have found Postal Services have already attempted delivery, but were unsuccessful. In these circumstances, items are taken to the local depot to await re-delivery/collection instructions. We would be very grateful if you would ensure you have made enquiries with your local depot, and perhaps your neighbours, to see if either party are holding your order.Royal Mail stipulate 10 working days (15 days for European and Rest of the World) are required before any item is considered officially lost or delayed – this period allows sufficient time for either delivery to be made, collection/re-delivery instructions to be completed, or the item to be returned undelivered to us,the sender.We comply with this directive from Royal Mail and advise buyers that if their order has not been received or returned to us within this period, we refund after this timeframe has elapsed.RETURNS:The Consumer Protection (Distance Selling) Regulations 2000 (Clause 13), excludes the cancellation of Newspapers, Periodicals (i.e.comics), Magazines and additionally sealed products and those sold under Auction terms and these are therefore not eligible for return/cancellation and we are under no obligation to accept a cancellation or return.• Unwanted or incorrect buying purchases received after dispatch are returnable therefore purely at our discretion.  Please contact us if you wish to return an item and if agreed, we will advise the returns process.• If we agree to a return then the buyer will be required to return the item(s) to us via tracked postage within 30 days of receipt at their cost.• Item(s) must be returned in the same condition sent to obtain a full refund.• If an item is inadvertently sent incorrectly by us, we will send the correct item immediately, subject to availability, and liaise with the buyer regarding the return of the incorrect item at our expense. If the correct item is not available a refund or alternative item will be offered.• If an item is returned by Postal Services as undelivered, we will contact you and advise the reason for the return. A re-package and re-send fee, payable by the Buyer, is required for orders to be re-sent.• If undelivered items are returned and are damaged or unsaleable as a result, we cannot offer a refund.  Please note Auction items are not eligible for any form of return.Mail Order Subscriptions available on request - Don't miss another issue of your favourite series.If you have missed an issue of any series, why not ask us as we have a  massive back issue catalogue and if we have it in stock we will list it  on for you. Powered by Turbo Lister