BNIP ICandy Peach Designer Collection All Black Universal Footmuff Fit All Peach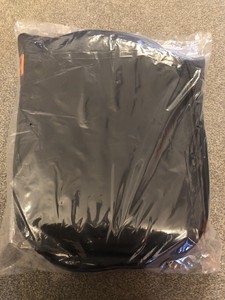 ---
Welcome to my auction, for a brand new still sealed in its original packaging, genuine ICandy peach designer collection 5th Anniversary all black Universal peach footmuff.
These just come still sealed in their outer plastic packaging bags only, not in a black ICandy box, as they were only available to be purchased as a package originally with the complete pushchair, carrycot etc, hence they came inside the pushchairs box so weren't in their own outer box. This is exactly as they were delivered to me brand new from the retailer as these were left over spare 1's they had from pushchairs they'd used as display models.
These are now incredibly rare brand new, as sadly they are no longer produced by ICandy anymore & all completely sold out with them & all retailers. As are all of the peach black, latest version footmuff's too. As unfortunately like ICandy always do with all their products when they bring out a new model they never produce anymore of the previous generation accessories which is extremely annoying for owners. These were the very last version footmuff's ICandy ever produced for the peach which are universal & have the non slip back feature that do not zip into the seat unit like the much older generation 1 & 2 peach footmuff's did. As they have now changed to a very expensive duo pod for the current generation 5 2018 peach models. This is a combined footmuff & Seat Liner. (I have a twin in beluga & actually much prefer using these original version footmuff's on it instead & the matching seat liners to the latest duo pods as they just constantly slip down as don't have a non slip back, aren't very warm & are absolutely truly dreadful as a seat liner.) Hence these perfectly fit the latest peach 2018 if you have 1 too. If you need to see photos of 1 of this design footmuff in a different colour on mine just ask & I can send you some. Mine is the beluga black colour-way.
They were a universal footmuff design ICandy produced so they fit all the previous peach models too, every peach generation main / upper seat both of the 4 wheel & jogger / all terrain models plus including the blossom lower seat for every generation except the original version 1 as that seat carried a different design & was a lot smaller sized seat so would hang over the end.
To not get confused these have the non slip back section which stops them moving in your seat unit, unlike the original older peach 1 & 2 original version footmuff's which are held in place by a zip which attaches under your hood. So if you have a newer peach 3, 2016, 2017, all terrain models etc & used the older peach version footmuff you'd have a 1/2 a zip running around the top of the footmuff which you wouldn't be able to attach to your seat unit & also a loose metal zipper tag on the end of the zip too. This would mean it would move on your seat unit too as it didn't have a non slip back due to meant to be held in place by the zip.
These are in a jet black colour way, which has a matching jet black fleece lining & has an ICandy branded zip tag to the top removable apron part & a little rubber orange tag saying DC on 1 side. It has 'DC Designer Collection Peach 5th Anniversary Black Edition' printed on the bottom on the top apron part in a back shiny print. The outer black is also lovely silky shiny black fabric unlike the standard peach footmuff's that have a rougher feel to their outer fabrics. As it was designed to exactly match the peach all black designer collection 5th anniversary pushchair perfectly in the matching fabric. (I've added stock photos of 1 of these footmuff's not in its packaging & of the pram / pushchair collection it was originally designed to go with. Obviously this listing is just for the footmuff not the pram & pushchair as well. This are just shown to clearly show the collection it was designed for.)
The top section is also removable should the weather suddenly change while you are out. It also allows the lower section to then be used as a fleece seat liner. They are lovely, thick & fleecy on the inside, so would keep your little 1 lovely & warm. The very top section of the apron part can also be folded down slightly with the attached toggles on each side, or zippered right up when it's really cold to keep your little 1 lovely & warm.
They would look lovely against loads of the peach colours like both black magic versions, jet, jet 2, silver mint, truffle, truffle 2, glacier, blackberry, Eclipse, butterscotch, sherbet, colbalt, plus the latest beluga & dove grey to name a few.

Postage & packaging will be free by Royal Mail's 1st class signed for delivery service Worth over £5 on its own. There is also the option for Royal Mail's special delivery service by 13.00 next weekday if needed guaranteed urgently. With you only paying the additional difference in postage cost from what I would pay for 1st class signed for delivery, not the whole amount. I will post at the very latest the following weekday after cleared payment is received, normally the very same day. If you need this urgently & have selected the special delivery option, for me to get this posted the very same day payment would need to by 16.00 to ensure I can get it packaged & to my post office branch by the last collection of the day on weekdays. Then delivery would be to you guaranteed by 13.00 the very next weekday. This does not apply to Sat deliveries as they occur an even larger cost for guaranteed Sat delivery I'm afraid. I always provide the buyer with all tracking info etc for their item. All my items come Incredibly carefully & securely packaged.

From a smoke free home.
Thanks for looking.