BLACK & SILVER CARBON FIBER Badge Overlay FOR BMW HOOD TRUNK RIMS @FITS ALL BMW@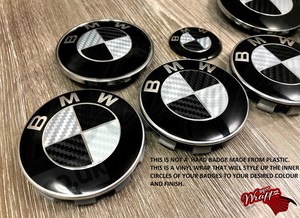 ---
BLACK AND SILVER CARBON FIBER EMBLEM BADGE Wrap Cover Skin 
FOR BMW 1 3 4 5 6 E Series Z4 X1 X3 X5 X6 M
HIGH QUALITY BADGE EMBLEM WRAP VINYL FOR 
FOR BMW
  - 1 Series (2004 - now): E81, E82, E87, E88, F21, F20
- 2 Series (2013): F22, F23, F45, F46
- 3 Series (2005 - now): E90, E91, E92, E93, F20, F30, F31, F81,
- 4 Series (2013): F32, F33, F36
- 5 Series (2004 - now): E60, E61, F10, F11, F07
- 6 Series (2004 - now): E63, E64, F12, F13, F06
- 7 Series (2002 – now): E65, E66, E67, E68, F01, F02, G11, G12
- Z4 (2004 - now): E85, E86, E89
- X Series: X1, X3, X5, X6: E84, F25, E70, E71, E72, F48, E83, F25, G01, E53, E70, F15, F26, F16
E31 E36 E38 E39 E46 E52 E53 E70 E60 E61 E63 E64 E65 E66
E81 E83 E86 E87 E90 E91 E92 E93 E94 X3 X5 Z3 Z4 Z8
Possibly fit other BMW models, with same emblem size
BLACK & SILVER CARBON FIBER
MATTE FINISH
IT IS THE BUYER'S RESPONSIBILITY TO CHECK THE SIZING PICTURE AND COMPARE WITH HIS BADGES.
IN CASE YOUR BADGE IS NOT THE SAME SIZE - WE CAN MAKE A CUSTOM ONE FOR YOU!
JUST SEND US A MESSAGE WITH THE SIZE OF EACH QUADRANT :)
 STYLE UP ALL YOUR BMW BADGES WITH THIS KIT
This is not a hard badge made from plastic. This is an insert to place over your car's original badges. 
The inserts are only to install in the inner circle of the badge (as shown in the pictures).
WARNING!
OTHER SELLERS ABROAD ARE TRYING TO TRICK YOU WITH CHEAPER PRICES BUT THEIR ITEMS ARE FAKE, HORRIBLE QUALITY AND MADE WITH CHEAP VINYL!
DO NOT BUY FROM THEM!
THIS IS THE ORIGINAL BADGE WRAP DESIGNED AND TRADEMARKED BY WRAP YOUR BADGE!
ONLY OUR EMBLEM CUT-OFFS ARE MADE FROM PREMIUM MATERIAL:
                  3M™ Wrap Film Series 1080 – Scotch Print
                  ORACAL 970 PREMIUM
                  Ritrama Wrap
        ARLON Ultimate Premium Plus™
 High class precision engineering has produced this top quality wrap vinyl sticker for your valuable BMW, guaranteeing a perfect fit.
High QualityPremium wrap (3M, Oracal, Ritrama)Perfect FitEasy to fitEasy to Remove Again – no marks left!
Protects your BMW's badges and emblems from 
ScratchesCracksWear & tearDirtRain / water 
& GIVES THEM A FRESH NEW LOOK LIKE NO ONE ELSE HAS !
Helps hide previous wear & tear and other imperfections 
Can match your car's colour or choose your favourite!
     MANY COLOURS AND MODELS OF KEY, AIRBAG AND BADGE WRAPS AVAILABLE, SEE MY OTHER LISTINGS!
 When will I send it?
I am trying to send it the same day if ordered before 2 PM.
What you will receive:
1 SET for a vehicle
The set includes corners for:
- Hood
- Tailgate
- Steering Wheel
- Engine Badge
- Wheels
- Indicators left and right (Z3 / Z4)
- Reserve / Spare one's
Any questions, please ask 
Larger orders (MORE THAN 5) available at discounted price.
ATTENTION! THIS IS NOT A PLASTIC OR METALLIC EMBLEM! 
IT IS A BADGE WRAP! 
Thank you 
RETURNS POLICY All wraps are handmade and individually inspected before being dispatched, to ensure they are sent out in perfect condition and match our high standards of quality.
In the unlikely event that your item is received faulty, please return it to us within 1 working day of receipt in its original condition.
Upon inspection, we will be happy to replace where possible, or refund you if the item is found to be faulty, we reserve the right to have any faulty items tested by the manufacturer (Wrap.Your.Badge) before issuing a refund or replacement.
All returned items must be authorised beforehand. Return postage costs will not be refunded as per long distance selling regulations
Refunds in cases of buyers "changing their minds" are accepted, but only if the buyer agrees for £1 to be deducted from the purchase price. The refund will be processed upon receiving the wrap back in brand new, unused and undamaged condition.
Refunds in cases of buyers mistake (buying a wrap that's not the same model as their key/airbag/badge) when buying are accepted, but only if the buyer agrees for £1 to be deducted from the purchase price. The refund will be processed upon receiving the wrap back in brand new, unused and undamaged condition.
Refunds in cases of buyer's badges being smaller/bigger  and the wrap not fitting are not accepted. Each buyer has to check the sizing of his badge before purchase.
In the case this happens, we can make a custom set to fit the buyers badge. The charge for this is £2 and the custom wrap can not be returned.
Refunds and returns in cases of buyers wanting to return a used item are not accepted - all returns have to come in brand new, unused and sell-able condition.
In the case of the buyer receiving the wrap(s) damaged by Royal Mail, pictures have to be taken to prove the damage. Please ensure that you take pictures of the envelope before opening it, after which if the wrap is damaged – picture that as well.
Upon inspection of the damaged wrap we will inform you of Royal Mail's answer on the matter and how long it will take to refund the purchase based on the acceptance of the claim. We cannot refund items damaged by Royal Mail before submitting a claim to the posting company. Upon receiving the claim's acceptance by Royal Mail, we will refund the buyer in 24hrs.
Please be wary of the fact that this is a 1 man's passion introduced on for people that share the same interest and love for their cars.
Our Feedback says it all – High Quality, Perfect Fit and Speedy Delivery = 100% Satisfaction!
Please leave feedback for purchase & send pics! 
We love seeing your keys, airbags and badges wearing our wraps :)