2x iCandy Replacement Chassi Logo Stickers coloured i Candy pram buggy peach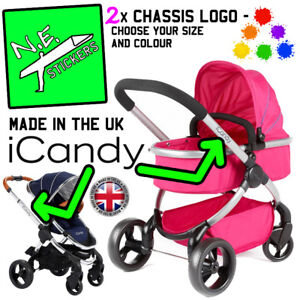 ---
Choose your size and colour from the options specified.
Included in the pack are two stickers (one for each side of the pram or buggy).
All stickers are supplied with clear (not paper) transfer tape to help you to apply the sticker, and instructions on how to stick the stickers to the pram.
HOW LONG FOR DELIVERY?We ask all buyers to allow a MINIMUM of TWO WEEKS for delivery, although most item will arrive significantly sooner. 
 Below are our guidelines if problems arise:   LOST or DELAYED  ITEMS: If your item does not arrive, we can only claim for the loss of the item TEN WORKING DAYSafter the date of posting. You can be sent a free replacement at this point. We do not give refunds for items which do not arrive on time for special occasions, so please understand this when buying. 
I NEED IT WITHIN A WEEK........WHAT DO I DO?You can purchase a queue jumper option on top of your item by searching N.E.stickers SKIP THE LISTin the box at the top of the page.  The auction that comes up first will explain the fast postage service - please read the item description in full and then purchase that in addition to your item.  We do not accept any faster posting requests without purchase of a queue jump option.